DIERS statico 3D
The Entry-level Model for Spine & Posture Analysis
The basic system DIERS statico 3D permits a rapid, high-resolution optical measurement of the human back. The procedure is radiation-free and operates without contact. Numerous clinical parameters for objective analysis of body statics and posture, scoliosis and spinal deformities can be shown. To extend the range of application the DIERS statico 3D can be upgraded with a leg axis analysis module as well as with the foot pressure plate DIERS pedoscan.
Radiation-free & Contactless

Fast Examination Procedure

Compact Dimensions

High Economic Efficiency

Certified Medical Device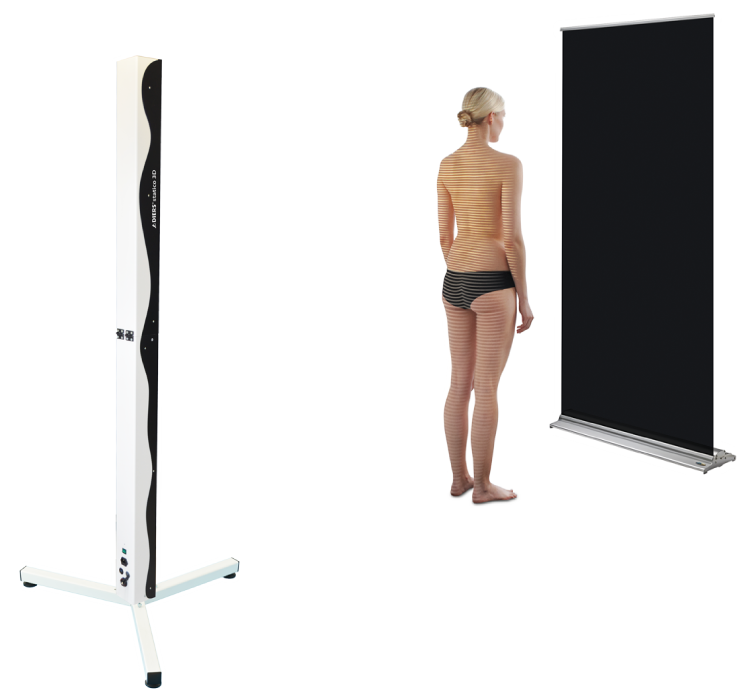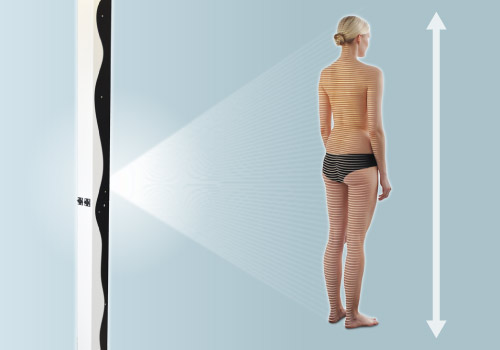 Wide Field of View
The stereo imager unit of the DIERS statico has a field of view of 1500 mm and can cover patients up to a height of 2.2 meters. Therefore it's not necessary to adjust the height of the system, which means a saving of time.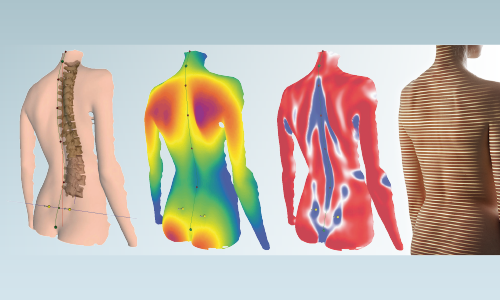 3D Surface & Spine Reconstruction
Unlike any other systems, the DIERS formetric also delivers a 3D reconstruction of the spine without using reflecting marker dots. By the Automatic Detection of Anatomical Landmarks and a scientifically based Correlation Model (by Turner-Smith & Drerup), which describes the relation between the surface curvature and the orientation of the vertebra, it is possible to reconstruct the curve of the spine and the pelvic position.
Automatic Detection of Anatomical Landmarks
There is generally no need for reflecting markers, because the anatomical fixpoints Vertebra Prominens (VP), Sacrum Point (SP), Dimple Left (DL) Dimple Right (DR) as well as the spinal center line and spinal rotation are automatically detected by the system. That allows a very time-saving and reliable examination procedure.
Standard Parameters
The basic configuration includes the following parameters:
Optional Software Add-ons
The modular structure of DICAM 3 gives you the possibility to extend the DIERS statico software by additional modules for specific applications. Here you can find the currently available add-ons, the range is continuously expanded.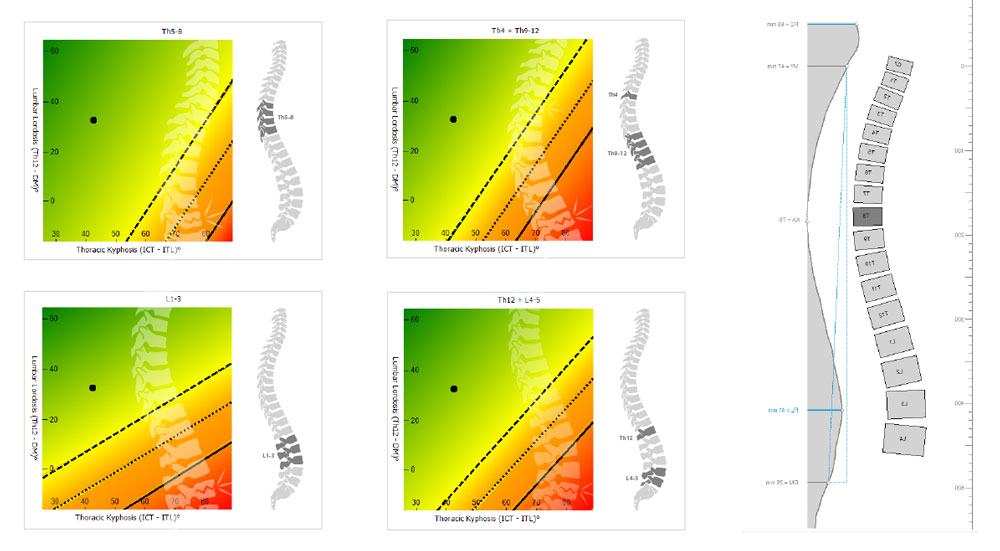 This software add-on can detect abnormalities of the spinal curve, which may be an indication for vertebral fractures.
Furthermore the patient's risk of suffering from osteoporosis can be calculated by means of a clinically proven mathematical model.
Cooperation partner: University Hospital Hamburg-Eppendorf
Clinical Applications:
• Objective and quantitative measurement of the human static and posture
• Computerized and clinical validated 3D-reconstruction of the spine
• Exposure time within 40ms to avoid blurring effects and artifacts

•
High sensitivity and reproducibility of examinations

• Objective definition of clinical parameter like spinal deformities, leg length discrepancies, pelvic obliquity and torsion, and many more
•
Measurement and follow up of scoliosis and all kinds of spine deformities

• 
Measurement and follow up of kyphosis and lordosis

• 
Opportunity to integrate whole body static into preoperative planning

• 
Postoperative measurement to monitor and improve rehabilitation procedures
• Planning and follow up measurements and documentation of therapies
…
User Groups:
• Orthopaedic clinics
• Rehabilitation centres
• Chiropractic

• Labour medicine
• Orthopaedic hospitals
• Physiotherapy
• Sports medicine
• School screening etc.
…
Additional Hardware Components
The DIERS statico can be combined with the DIERS leg axis and the DIERS pedoscan to analyse simultaneously the spinal column, the leg axis geometry and the foot pressure distribution.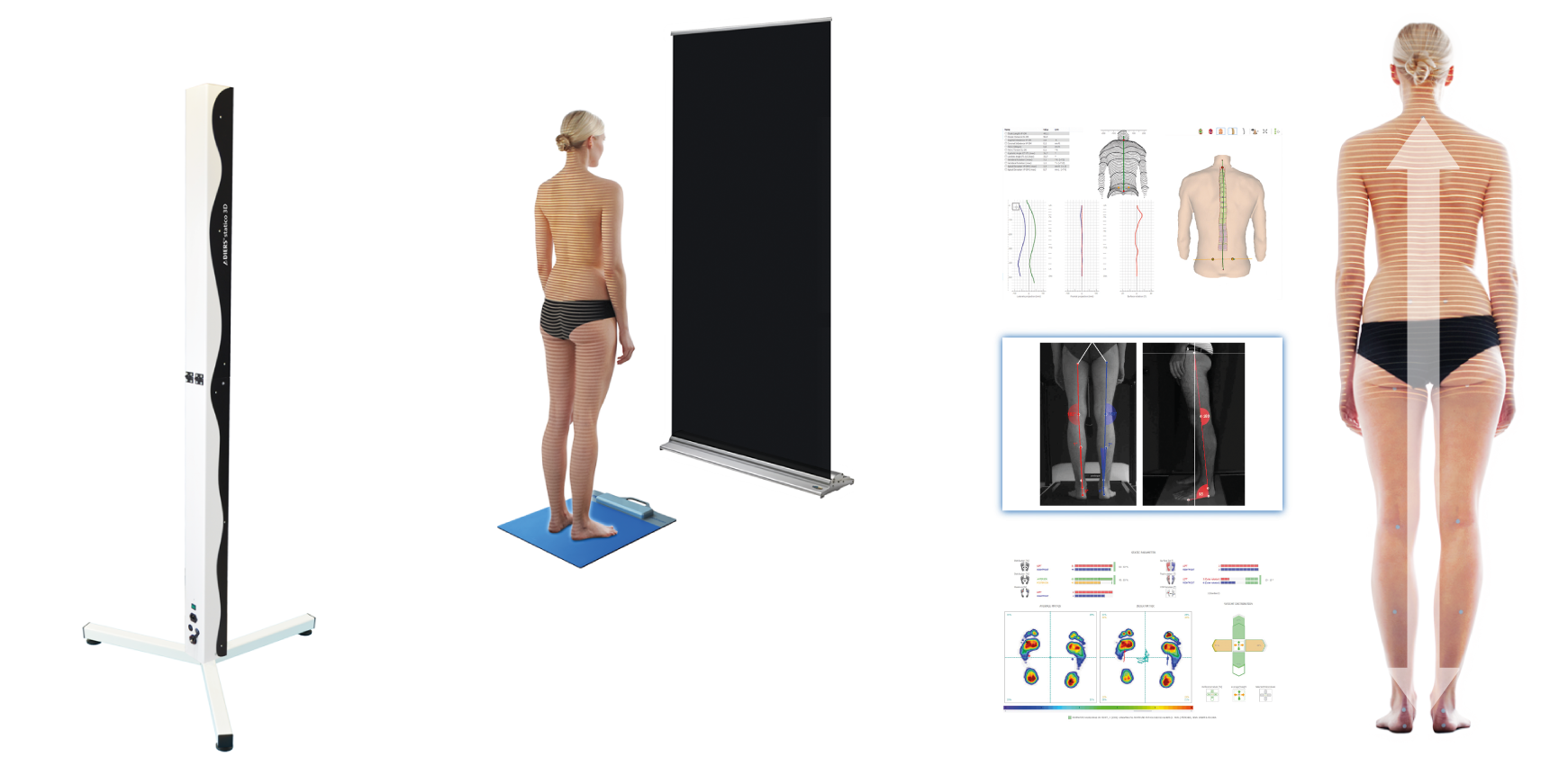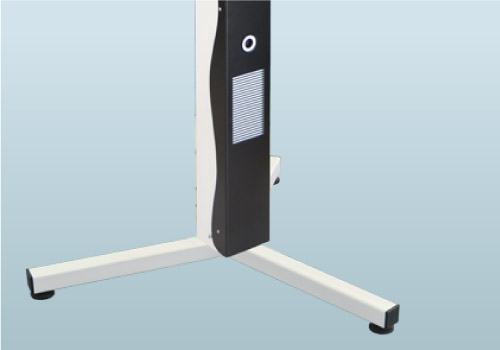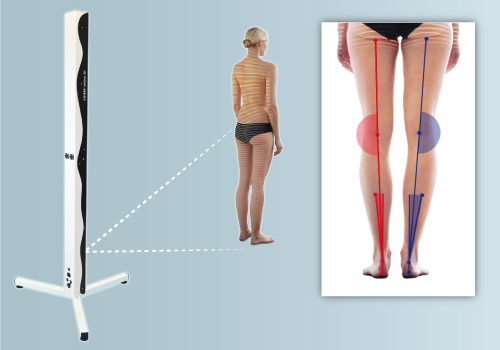 DIERS leg axis
The leg axis module is a video capture and documentation device with the capability of automatic analysis of the geometry of the legs and heels. It can be used in addition to spine and posture measurement. For automatic detecion reflecting marker dots have to be positioned at the legs and heels. The standard position for exams is the posterior view. By turning the patient also examinations from sagittal and anterior are possible.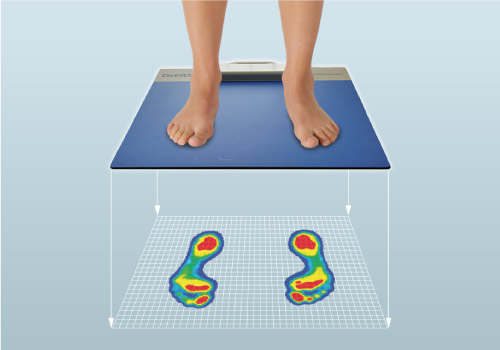 DIERS pedoscan 0.4
The DIERS pedoscan is a measurement device for recording and analysis of foot pressure and allows to quantify and qualify the foot reaction forces quickly and precisely while standing or walking. Many clinical issues concerning the objective analysis of pressure distribution, pressure peaks, and movement asymmetries are recorded to help to diagnose foot malformations or functional limitations of the lower extremities.
Typical Clinical Applications:
Foot malpositions and foot corrections
Diabetic foot analysis
Prescription of insoles (orthotics)
Etc.
DIERS statico + 3D Simulation Platform
The simulation platform can be used to evaluate leg length differences and foot malpositions. The effects of treatments on the spine, pelvis and posture can be simulated with the platform. During the examination, the patient stands on two separate standing surfaces which can be adjusted in three directions. Correctional parameters – e.g. for insoles which are to be made – are determined with millimetric precision.
Personal Computer System
Computer-System for DIERS statico 3D (including TFT-Monitor and Keyboard)
Electrical Isolation Transformer
Depending on National Medical Device Regulations this component may be mandatory.
Operator Desk
Specially designed operator console for the DIERS statico 3D scanning device.
Transportation Case
Do you want to have the possibility to make functional, resp. posture tests ?
In this case the DIERS formetric 4D might be the right solution for you due to higher hardware performance ( faster exposure time / averaging function)
Customer Services
A competent team of engineers, sports scientists, computer scientists and economists is always available for your questions and suggestions.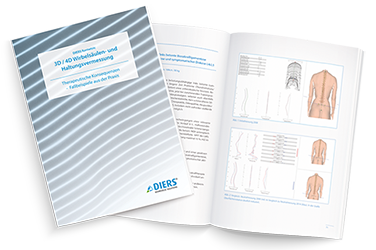 Booklet:
"3D/4D Spine & Posture Analysis – Case Studies from Actual Practice"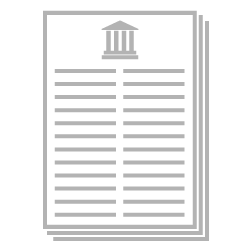 List of Scientific Publications
You are welcome to visit us and test our systems in practice.
Alternatively we would be pleased to come to you for a personal consultation and demonstration.